Infinity Rewards
Infinity Rewards
Now available resort-wide with expanded opportunities for benefits. Infinity Rewards members can earn reward points with cash or credit card purchases across the property directly to their Infinity Rewards card. Earn Points and Comps to use at Grand Sierra Resort and SAHARA Las Vegas!
Infinity Resort Rewards
Welcome to Infinity Rewards, the premier Resort Rewards Program that offers you endless opportunities to earn points and enjoy exclusive benefits during your stay with us. Our program is designed to reward you for your loyalty, making your experience with us even more enjoyable.
As a member of Infinity Rewards, you will earn points for every dollar spent at most outlets on property, including dining, shopping, and other activities. Whether you are lounging by the pool, enjoying a delicious meal at one of our restaurants, or indulging in a spa treatment, you can earn points with every purchase.
Our rewards program is similar to a grocery store rewards program, making it easy for you to understand and use. The more you spend, the more points you earn, and the more rewards you can enjoy. Redeem your points for a variety of benefits, including free nights, room upgrades, dining vouchers, and other exclusive perks.
Membership is free and easy to sign up for. Simply visit our Infinity Rewards desk or Cashier Club and speak to one of our friendly staff members during your stay. Once you are a member, you can start earning points right away and enjoy the benefits of the program during your stay.
At Infinity Rewards, we believe in rewarding our loyal guests and making every visit with us special. Whether you are a frequent traveler or visiting us for the first time, our program offers you an excellent opportunity to earn rewards and enjoy a more personalized experience with us.
Join us today and start earning points towards your next stay with Infinity Rewards!
Frequently Asked Questions
How do I earn reward points?
Where can I earn rewards points?
Where can I see my reward points?
How can I spend my reward points?
What's the catch?
How do I sign up?
How do I earn reward points?
Simply ask any restaurant or outlet during your cash or credit card purchase. The team member will need to swipe your Infinity Rewards card at the register during the purchase to automatically earn points.
Where can I earn rewards points?
Restaurants & Food Outlets
Charlie Palmer Steak Reno, Rim Asian Bistro, Uno Más, The Grand Buffet, Grand Café, Chickie's & Pete's, Round Table Pizza, 2nd Street Café Express, Starbucks, Jamba
Retail Outlets
Impulse, Outdoor Sport
Bars & Lounges
Center Bar, Crystal Bar, Fat Tuesday, LEX Lounge, Race & Sports Bar, Rendezvous Lounge
Recreation Venues
Bowling Center, Fun Quest, Grand Adventure Land, Grand Bay Driving Range, Spa, The Pool, The Ice Rink
Where can I see my reward points?
At any kiosk, the rewards desk, or even online.
How can I spend my reward points?
Once you have at least 1,000 reward points you can spend them at any outlet that accepts reward points or even for free play. Simply ask any team member at an outlet and they'll be happy to assist.
What's the catch?
There's NO Catch…
But, there are some rules,
Guest must be 21 years and older to have or sign-up for an Infinity Rewards account
Guest must have a valid ID to sign-up or receive their Infinity Rewards account or card
If a guest has any questions about a valid ID or their Infinity Rewards account please visit the Infinity Rewards desk or Cashier Cage
How do I sign up?
Simply visit the Infinity Rewards desk for quick and easy assistance to get your Infinity Rewards account created.
Then you will be able to begin enjoying the benefits of being an Infinity Rewards member.
TOUCH
SELECT
Up to 999 base points
Earn points and comps redeemable at any GSR outlet
Personalized offers and room discounts
Bonus drawing entries
TOUCH
PREMIER
1,000+ base points
5% discount at The Grand Buffet
2x daily point multiplier
TOUCH
ELITE
7,500+ base points
10% discount at The Grand Buffet
3x daily point multiplier
TOUCH
LEGEND
50,000+ base points
15% discount at The Grand Buffet
4x daily point multiplier
VIP parking pass
TOUCH
ICONIC
200,000+ base points
20% discount at The Grand Buffet
5x daily point multiplier
VIP parking pass
Annual Two-Night Stay at SAHARA Las Vegas
TOUCH
INFINITE
Invitation only
Free buffet coupon at The Grand Buffet
6x daily point multiplier
VIP gated parking
Personal casino host
Annual spa service*
Annual SAHARA Las Vegas trip + air fare*
Tier Level Benefits
ACCESS
VIP Express Line at GSR Outlets
Complimentary Pool Access*
Spa & Fitness Center Access
Annual Spa Service
GAMING
Bonus Drawing Entries
Birthday Point Multiplier
Points for Free Play
Check Cashing*
Daily Point Multipliers
In Slot Machine TV Viewing
Slot Machine Reservations
Cash Advance Fee Reimbursement
Premium Alcohol While Gaming
HOTEL & TRANSPORTATION
Discounted Hotel Room Rate*†
Family & Friends Room Discounts*
SAHARA Las Vegas Room Discounts
VIP Parking
VIP Lounge Check-In
Preferred Late Check Out
Sierra Tower Room Upgrade
Resort Fee Waived
Next Up Valet Car Service
Limo Service
Complimentary Stay at SAHARA Las Vegas
Exclusive Gated Parking
DINING
Free/Discounted Buffet*
VIP Express Line at the Buffet
VIP Express Line at Starbucks & 2nd Street Cafe Express
ENTERTAINMENT
Grand Theatre Concert Pre-Sales
Grand Theatre Line Privileges
LEX Line Privileges*
LEX Table Preference*†
Grand Theatre Booth/Balcony Upgrade*†
Grand Theatre Artist Meet & Greet*
Infinity Rewards Rules
View Infinity Rewards Rules
Card Rules
Must be 21 years of age or older to participate, membership is free
New Infinity Rewards members must enroll at designated locations to be eligible to earn rewards
Valid government-issued photo identification is required to enroll in Infinity Rewards membership, to replace lost or stolen cards, and to redeem Infinity Rewards
Grand Sierra Resort and Casino is not responsible for lost or stolen cards and/or Infinity Rewards
Membership in the Infinity Rewards program is a privilege, which may be modified or revoked, at which time Infinity Rewards card(s) must be returned, as they are the property of Grand Sierra Resort
Cardholders may have only one account and Infinity Rewards benefits are non-transferable
Infinity Rewards members are not allowed to have others accumulate benefits to their account
By enrolling in the Infinity Rewards program, members consent to the terms of the Grand Sierra Resort Privacy Policy which includes your permission for Grand Sierra Resort to correspond by mail, email, and telephone. Members are responsible for promptly notifying Grand Sierra Resort of contact information changes including unsubscribing or other opt-out options.
Grand Sierra Resort reserves the right to adjust Infinity Rewards comp balances resulting from malfunction, operator error and/or fraud
It is the member's responsibility to present Infinity Rewards card to a dealer before playing table games and/or properly insert the Infinity Rewards card into the slot card reader and verify its acceptance throughout the duration of play
Infinity Rewards points and comps are valid for 13 months from the day earned. All unused Infinity Rewards points and comps will expire and will no longer be available for redemption
Base points are earned annually (March 31-April 1) and are only used for determining tier levels
Point multiplier promotions or other point adjustments will not apply to base points
Individual players may be disqualified from point multipliers or may be given a reduced multiplier for any reason, including suspicion of advantage play
Tier levels are subject to modification based upon account activity
Grand Sierra Resort reserves the right to cancel or modify the Infinity Rewards privileges at any time without notice
Any Infinity Rewards member that is banned from the property voluntarily or involuntarily will forfeit all privileges, including awards, prizes, comps, and offers that are associated with Infinity Rewards membership
Any Infinity Rewards member who has had a tier level reduction is required to surrender the existing card and will be issued a new card with the current tier level. This includes any parking pass or gate card that has been issued
Management reserves all rights and all decisions are final and binding. Infinity Rewards benefits are subject to availability. See Infinity Rewards for additional details
How To Redeem Points and Comps
Show your Infinity Rewards card with valid photo ID at any GSR outlet and select retail outlets
Use your PIN to download points for Free Play at select machines
Earn Comps and Points
Slots/Video Reels: $1 Coin-in = 1 point
Video Poker: $2 Coin-in = 1 point
Table Games: Based on length of play and average bet = comps

Specialty Games could have a different earning threshold
*Based on availability/select days. †Based on play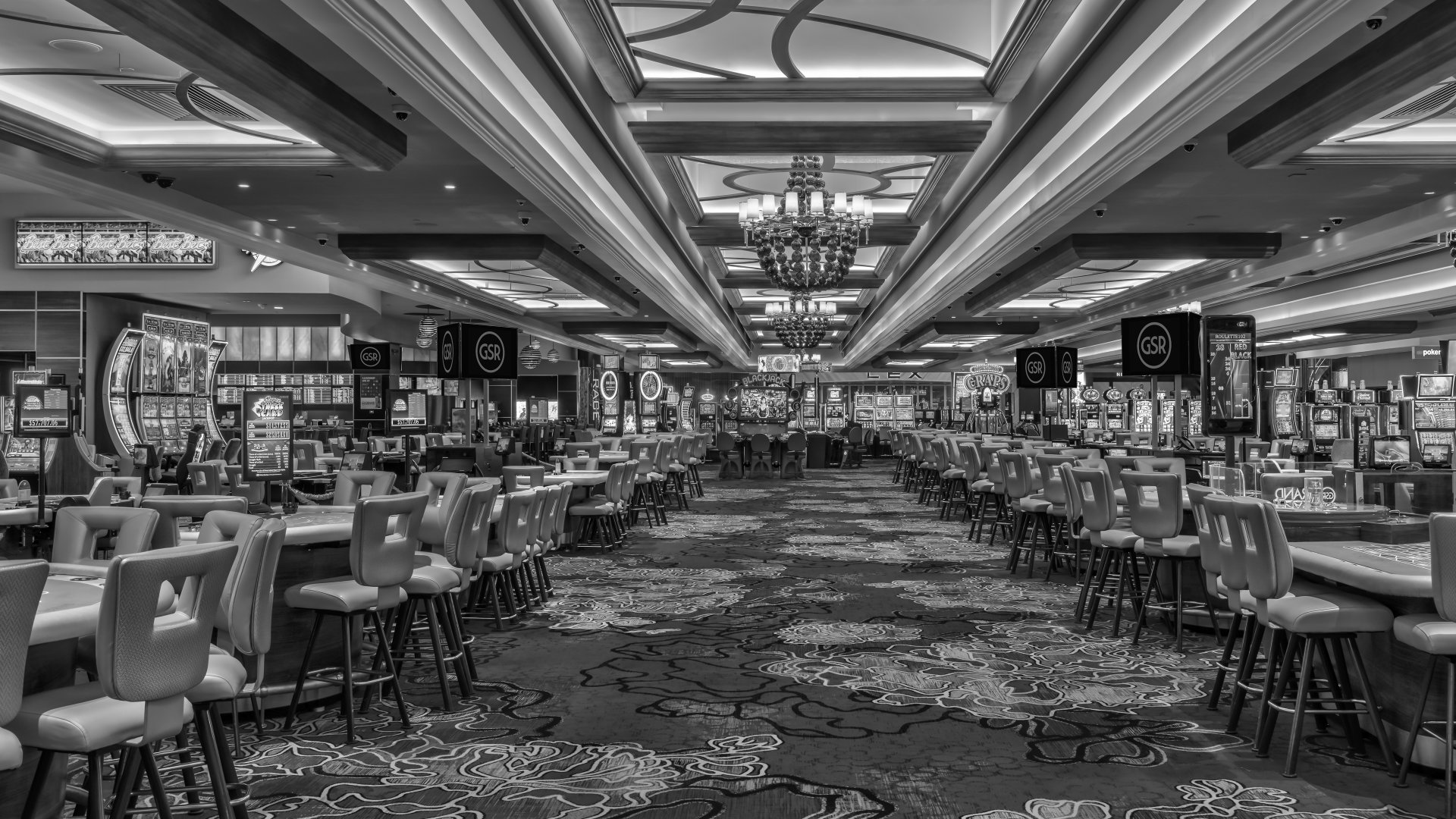 More Casino Gaming Excitement